上海广尹电子科技有限公司
联系人:康君
联系电话:18616504949
地址(总部):上海市浦东新区御北路385号2号楼323A
香港:香港君润有限公司
联系人:贾炜
联系电话:+86-15900458859
地址:香港九龙旺角道33号凯途发展大厦7楼4单元
Tech Cut 5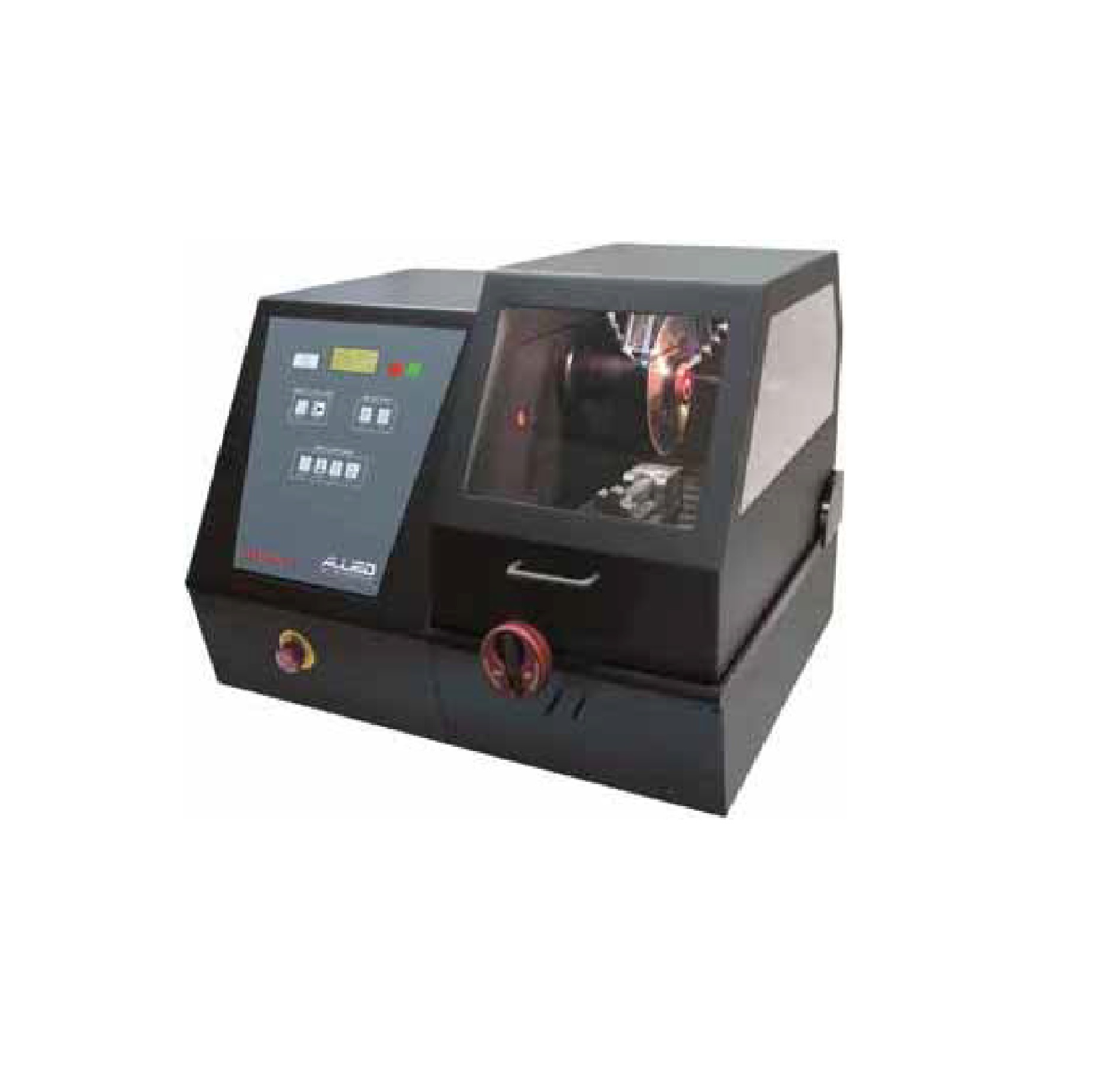 Features:
􀂙􀀃Automatic Y-axis sample advancement with soft-start,
programmable from 0.05" to 3" (1.25-76 mm) per minute
􀂙􀀃Manual Y-axis sample advancement using hand wheel
􀂙􀀃Cutting capacity: up to 2.5" (63 mm) bar stock
􀂙􀀃Accepts 3-8" (76-203 mm) blades with either 0.5"
(12.7 mm) or 1.25" (32 mm) arbor hole
􀂙􀀃Variable speed: 500-5,000 RPM (100 RPM increments)
􀂙􀀃Adjustable cut depth with high speed auto retraction
􀂙􀀃Selectable sample force (low, medium, high) optimizes
feed rate automatically
􀂙􀀃􀀶􀁄􀁐􀁓􀁏􀁈􀀃􀁕􀁒􀁗􀁄􀁗􀁌􀁒􀁑􀀃􀁉􀁒􀁕􀀃􀁇􀁌􀁉􀂿􀁆􀁘􀁏􀁗􀀏􀀃􀁕􀁒􀁘􀁑􀁇􀀃􀁒􀁕􀀃􀁗􀁋􀁌􀁆􀁎􀀃􀁖􀁄􀁐􀁓􀁏􀁈􀁖􀀃􀀋􀁚􀁌􀁗􀁋􀀃
optional #5-5745 Rotational Cutting Attachment)
􀂙􀀃1.25 HP (950 W) high torque DC motor
􀂙􀀃Touchpad switches to control all functions
􀂙􀀃LED illuminated interior
􀂙􀀃Intuitive control panel with backlit 4-line LCD display
(imperial or metric units)
􀂙􀀃Protective metal cover with viewing windows and safety
auto shut-off sensor
􀂙􀀃Recirculating coolant system - either internal 1.25 gal
(4.7 L) or external 7 gal. (26.5 L) capacity
􀂙􀀃Dimensions: 24" W x 25" D x 19" H (610 x 635 x 483 mm)
􀂙􀀃Weight: 142 lb. (65 kg)
􀂙􀀃 compliant for EU
􀂙􀀃Two (2) year warranty
􀂙􀀃Designed & manufactured by Allied in the USA
The TechCut 5™ precision high speed saw is a versatile,
programmable machine designed to cut a wide variety
and size of materials. It automatically sections materials
at high speeds, increasing sample throughput. The
microprocessor-based system controls sample feed
rate, distance and force, and automatically adjusts feed
rate as the cutting condition changes due to varying
thickness and/or material differences in the sample.
When sectioning is complete, the table automatically
retracts the sample to the home position and stops
􀁅􀁏􀁄􀁇􀁈􀀃􀁕􀁒􀁗􀁄􀁗􀁌􀁒􀁑􀀃􀁄􀁑􀁇􀀃􀁆􀁒􀁒􀁏􀁄􀁑􀁗􀀑􀀃􀀷􀁋􀁈􀀃􀁘􀁑􀁌􀁔􀁘􀁈􀀃􀂿􀁛􀁗􀁘􀁕􀁌􀁑􀁊􀀃􀁖􀁜􀁖􀁗􀁈􀁐􀀃
allows for easy changes between the T-Slot Table and
the X-Axis Tables. Both tables offer a variety of
􀁆􀁒􀁑􀁙􀁈􀁑􀁌􀁈􀁑􀁗􀀃􀁗􀁄􀁅􀁏􀁈􀀐􀁖􀁓􀁈􀁆􀁌􀂿􀁆􀀃􀂿􀁛􀁗􀁘􀁕􀁈􀀃􀁒􀁓􀁗􀁌􀁒􀁑􀁖􀀑􀀃
Tables, accessories and consumables are sold
separately.
Item Description
5-5320 X-Axis Table, 25 μm Resolution
5-5700-ER TechCut 5™ with External Reservoir, 100-240 V
5-5700-IR TechCut 5™ with Internal Reservoir, 100-240 V